LPasse Design est créé par Laurent Passe, artisan français spécialiste en ébénisterie et cuisines contemporaines.

Reconnu dans le monde de la décoration et du design, Laurent Passe travaille avec des matériaux nobles qui nécessitent une connaissance aiguë du savoir-faire d'antan. De la restauration à la création de cuisines, chambres, bibliothèques, parquets, cheminées, escaliers, fontaines, ou encore portes anciennes, … un accompagnement est proposé pour assurer la bonne utilisation de ces matériaux et donner une ligne de conduite dans la décoration de l'habitat particulier ou professionnel tel que agencement de magasins ou de bureaux.
LPasse Design exerce son activité avec des matériaux anciens ; le travail en atelier d'ébénisterie permet de rénover et d'adapter sur mesure toutes portes, boiseries et parquets anciens à la demande de la clientèle ; la réflexion en studio de création aboutit à une certaine innovation dans l'art d'utiliser ces matériaux anciens en suivant les nouvelles tendances de design.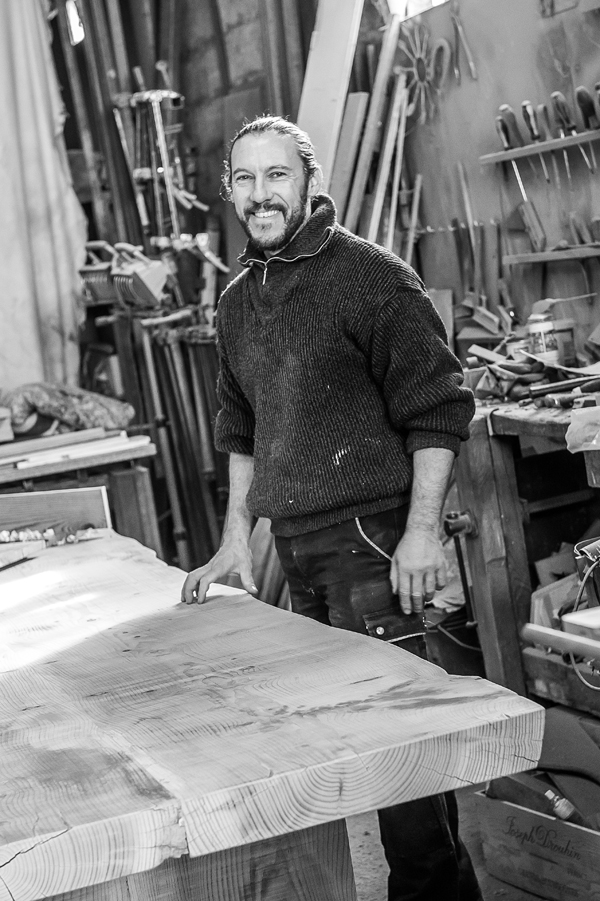 Contactez-nous pour vos projets
Le bois et les portes anciennes
Le stock varié et sans cesse renouvelé offre un vaste choix de styles différents. LPasse Design réalise ses créations en respectant l'esprit classique (portes XVIIème, XVIIIème, parquet de Versailles, parquet point de Hongrie, …) ou en s'orientant vers un esprit plus moderne mettant la noblesse des matériaux anciens au service de l'esthétique et de la fonctionnalité des lignes contemporaines (façades et portes de cuisines, mobilier de boutiques,…)
La taille de pierre
Des compétences dans la taille de pierre permettent d'élargir l'activité de LPasse Design vers la restauration des cheminées anciennes et la construction de montages divers à partir d'éléments anciens (fontaine, encadrements de porte, …).
Le concept LPasse Design
La volonté de LPasse Design est d'apporter un conseil élaboré dans votre projet de création ou de rénovation d'habitat notamment en collaboration avec vos décorateurs et architectes d'intérieur.
---
LPasse Design
was created by Laurent Passe, a French craftsman specialising in cabinet making.
Well-known in decoration and design circles, Laurent Passe works with original materials which require a precise knowledge of old techniques. From the restoration to the creation of kitchens, bedrooms, libraries, parquet floors, fireplaces, staircases, fountains, or even antique doors…Laurent Passe accompanies you to ensure the correct usage of materials and helps to integrate them into the decoration of private homes or professional offices or shops.
LPasse Design works with old materials: the skills in the workshop enable customised renovation and adaptation of doors, woodwork and old parquet at clients' request. The brainstorming in the creation studio results in a certain innovation in the way of using these original materials following new design trends.
Wood & antique doors
The varied and constantly updated stock offers a vast choice of different styles. LPasse Design creates products maintaining respect for classic design (17th and 18th century doors, Versailles parquet, "Point de Hongrie" parquet) or veering towards a more modern approach using the charm of antique products to give the look and functionality of contemporary lines (kitchen units and doors, shop fittings).
Stone cutting
Skills in stone cutting mean that LPasse Design can expand its activity to the renovation of antique fireplaces or the creation of various items from antique products (fountains, door surrounds).
LPasse Design concept
The goal of LPasse design is to bring a high level of guidance to the creation or renovation of your home, specifically by working with your decorators and interior designers.